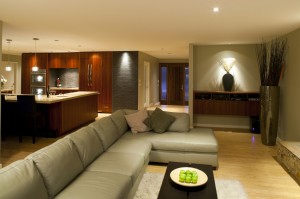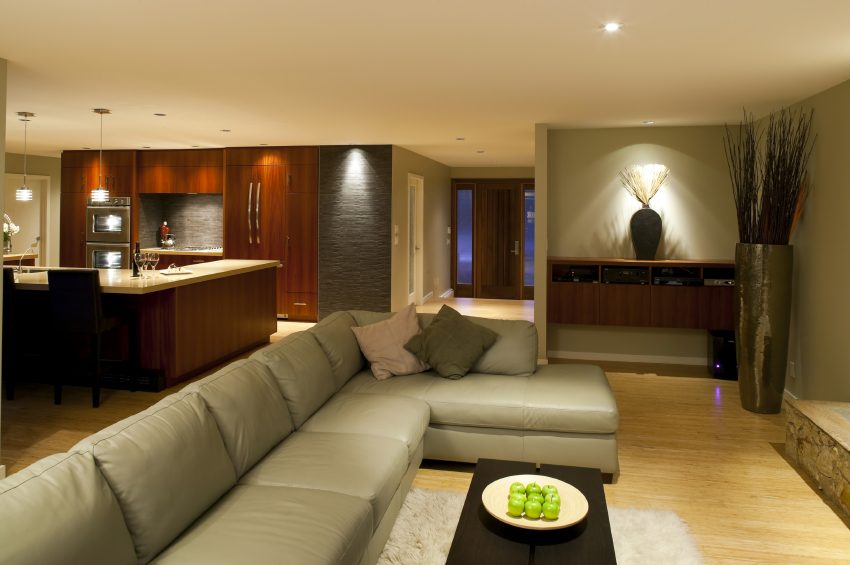 The real measure of a successful basement remodeling is … that it doesn't feel like a basement. But that's not always so easy.
Basement spaces tend to be broken up by utilities and obstructions that above-grade spaces don't have to contend with. Many consist of a series of small, cramped rooms with low ceilings.
The climate of basements is often stagnant, with lack of natural ventilation. Mechanical systems clank away in the background. Day light is severely limited.
Total Basement Finishing has put together a list of 9 tips that designers use to make basements feel like first-floor rooms.
1. Maximize your window openings
Treat any basement window or glass door you have as gold. Make them focal points of your new basement space, or at least don't obstruct them! If your windows are rusty or rotten, replace them with a new basement window replacement window.
2. Add window wells
Window wells not only allow you to increase the size of your existing windows, but they let in more natural light, too. Light the well at night using a small spot light so it can be seen from inside. Landscape the wells with gravel, vines, and a bench if there is room.
3. Hang a big mirror
The classic solution for any cramped space, a mirror creates the illusion of space faster and cheaper than just about any other trick you can employ. Just don't use them where kids play…the occasional thrown block will put some poor little one in the time-out corner! Framed mirrors may be hung as you'd hang a heavy picture. Frameless mirrors may be hung with brackets with mirror adhesive.
4. Glass doors
If you're lucky enough to have a doorway to the outside, make sure it's got as much glass as possible! Walk-out basements are as prized for the light they allow in as for enabling an easy exit.
5. Lay a Floor
If you want to lose that basement feeling, nothing does it quicker than covering the slab with a real floor. Because slabs may be a source of water vapor, it's not smart to use materials that can get damp, moldy and musty smelling – such as wood. Interlocking floor tiles are one good solution. They come in many styles, including parquet, carpet, and tile. Made of PVC, stand-offs raise the tiles slightly off the slab for ventilation. If the room ever floods, they can be removed, cleaned and re-installed.
6. Upgrade your ceiling
Drop ceilings are great if you need access to the mechanical found near the ceiling of many basements. If you don't need the access, however, upgrade to drywall for a true above-grade feeling. There are also decorative ceiling tiles available that look nothing like what you'd normally find in a basement.
7. Hide the columns
Obstructions, such as columns or ducts, should be incorporated in your floor plan in ways that seem logical. A post at the corner of a bar, for example, seems right. An enclosure for ducts, over the TV stand, does not seem out of place. Obstructions will not always be where you'd like, but try to use them to help define the various activity areas of an open plan.
8. Don't skimp on moldings
Add ceiling and baseboard trim to finish your basement rooms. Choose size and profile appropriate for the space. If the ceiling is low, for example, avoid a grand, elaborate crown molding. Ditto at the floor. A 4-in. molding will make a small room feel bigger, while a 6-in. molding will make the same room feel smaller.
9. Upgrade the stairs
Nothing feels more basement-like than stairs built of lumber. Add finished stairs complete with new railings. Consider changing the design to include a landing and a turn. Many basement stairs terminate facing a wall. Change yours to face a living area. Landings also reduce the risk of injury should someone slip and fall on the stairs.
Affect on home value when you sell

By upgrading materials and making your basement feel like an above-grade space, appraisers and Realtors can justify assigning greater value to it. In addition, prospective homebuyers will feel and see the difference, making your house more desirable and less likely to stay on the market for long.
Even if you're not planning to sell, these tips can help you enjoy your below-grade space even more!