Bringing all U.S. homes to airtightness levels spelled out in the 2012 International Energy Conservation Code would save as much as $33 billion in energy costs annually ~ GreenBuildingAdvisor.com
The attic is the biggest source of energy-wasting air leaks in most houses.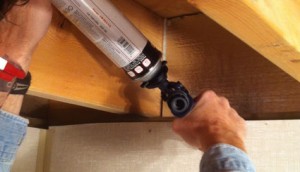 If you find some rooms too hot in the summer and too cold in the winter, the logical first place to look is up. There are many ways your comfortable air can leak up and out of your home. There can be gaps around recessed light fixtures, ducts and vents. Even a small gap can allow comfortable (paid for) air to escape.
We can't talk about leaks to the attic with noticing the pull-down attic stairs. They're a huge source of air leakage!
Erik North, author of the Energy Auditing Blog wrote about how to insulate and air seal pull down attic stairs on Green Building Adviser.  He succinctly refers to it as "the biggest hole in your ceiling." Luckily, there are proven techniques to reduce the air loss through that big hole.
You may find you need new or better insulation as well, but you should always start with air sealing your attic.
Chris Froelke wrote on www.RetroGreenEnergy.com that "Air sealing all of these air leaks is crucial to do before you blow more insulation on top of the leaks. Don't fall victim to a 'Blow and Go" contractor.'"
Sage advice!
DIY or Professional?

While this project can be done yourself, you may want to consider outsourcing this if you are not very experienced. We give this project a "DIY Hero" difficulty rating, meaning some tools, time & materials are required.
If you're ready to go for it, be sure to protect your knees with knee pads and your lungs with a dust mask.
Then follow the instruction in this Family Handyman® article.
If you don't want to take the DIY approach, find a good contractor who specializes in energy saving and making homes more comfortable. A home energy audit is a good place to start to identify and measure where you are losing money. Then you can prioritize projects to help you save on energy costs, and be more comfortable at home.